The Samsung S10 has been possibly the most anticipated phone that I have ever encountered. Even before the S9 was launched, people were theorizing as to what the S10 would look like. Therefore, with about a month and a half left until its launch, we have a pretty good idea of what it will look like. So, will it be the best phone of the first half of 2019, like everybody thinks, or will it fail? Let's have a look.
Specs
The specs of this phone are very much up in the air, but we do know a few things about it. It will come with the Snapdragon 855 (Which we don't know very much about) in the US, and the Exynos 9820 everywhere else. The Exynos 9820 will almost certainly not be as fast or as powerful as the Snapdragon 855, but Samsung has released a few details about it. Firstly, it will be built on a 7nm building process, which basically means it can fit much more power into a smaller area, so it requires less energy to do it. Thus, it is incredibly efficient, and will probably result in increased battery life. Another feature of the new Exynos processor is the ability to process video at 8K 30fps. That is incredible, but I do think of it as a bit of a gimmick. Very few people at this point can view 8K footage on their television, nevermind their phones. However, the general consensus is that the S10 won't be able to do this anyway, because it doesn't have the raw hardware to do so.
The RAM is one of the points we are most unsure about. There are a few theories going around that they will have a 6 GB model, all the way up to a 12 GB model, but I doubt this. Samsung hasn't really been an industry leader when it comes to innovation in any area other than design, so I wouldn't hold your breath for this feature. Maybe, 10 GB at a push, but I think 12 is too much for a phone. That's more than my laptop has.
The final big rumour that we have had regarding the specs of this phone is that it will come – at least in the top models – with 5G. If this is true, it would be awesome, and will probably be the first phone with 5G enabled. However, if it isn't, that isn't too bad either. 5G networks won't be available for months, and possibly even years for places like the UK. Overall though, my thoughts are that they may release a model, later on, maybe a month or two down the line with 5G, but in January or February of 2019? I don't think it's worth the price.
Design
This phone's design has been possibly the most leaked part of it, so we now have a pretty good idea of what it will look like. The most probable design is the one below.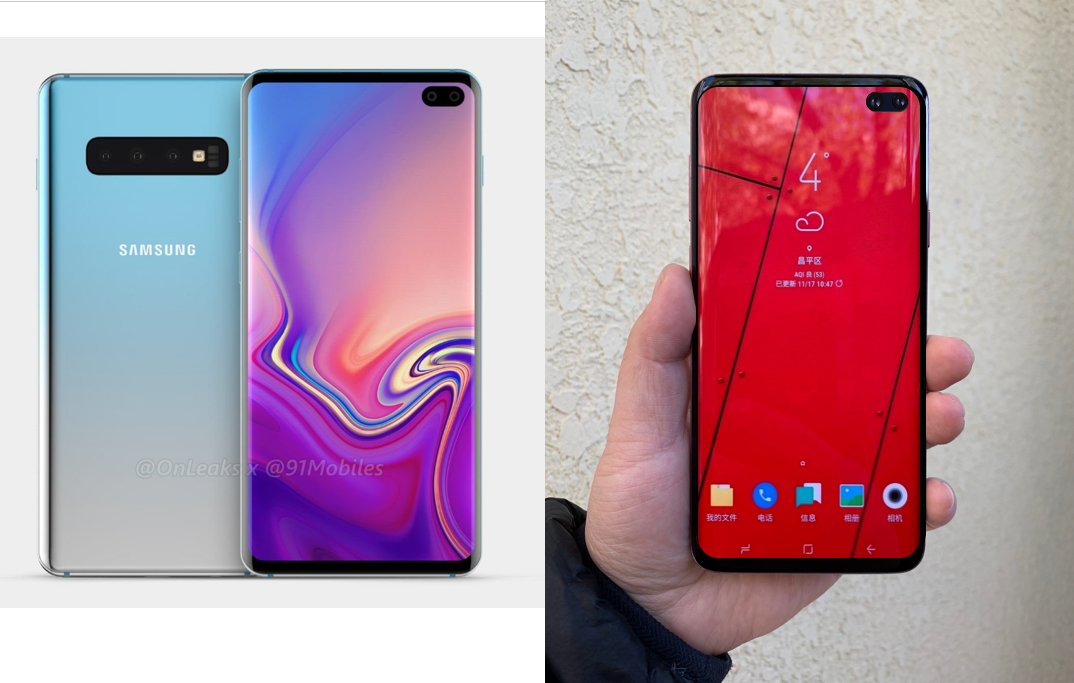 I have to say, I really like this. A hold in the display, in my opinion, is not as smooth or cool as a teardrop notch, but it does technically have more screen real-estate, and leaves room for a dual-camera system. My biggest gripe with this design – and from the looks of it, it is most people's biggest gripe too – is the fact that they are doing all of this innovation, but they still haven't gotten rid of the chin or forehead. That is just weird.
Now, for my problem with this. I can guarantee you that at least 80% of Samsung users in the UK will respond to this phone's launch by lauding Samsung for making such a high screen-to-body ratio, without adding a notch, and use that fact over anybody with a phone not made by Samsung. However, anybody with any interest in tech will have heard of Oppo, Vivo, Xiaomi, Honor, and even Elephone doing that before them. And, yet, like Apple, Samsung will claim to have created the bezelless display, and 80% of their UK fans will believe them. Sheep.
Another high point of this phone is that it is expected to come with a total of 5 cameras; 3 on the back, and 2 up front. According to most leaks at this time, the cameras will be placed horizontally. I really don't like this. With screen sizes increasing, the S line getting infinity displays, there is little separating the S line and the Note line any more. The S pen and camera alignments are about the only things left. However, this will make room for a larger battery than the S series usually has, which is promising because all of Samsung's phones have historically bad battery life, especially over the past few years.
Battery
The battery life of the S10 will almost certainly be meager. The Note 9 has a 4000 mAh battery, and yet tech reviewers have already claimed that the battery life of the phone is decreasing, only 3 months later. I would estimate the S10's capacity to be about 3700mAh, maybe 3800mAh. Not more than 4000mAh, due to the size of the phone.
Software
The Samsung S10 will come with One UI, Samsung's latest overlay to Android 9.0 Pie. If you ask me, it's about time. Android Pie has been around for months. Honestly, though, from what I have seen of One UI, I think I've fallen in love with it. All of the navigation bars are at the bottom now, to make it easier to reach one-handed (although Huawei did that on the Mate 20), their icons have been remade to look smoother and more fluid than their old ones (Although Google already did that for all of their apps for all Android phones), and the UI is much smoother than before (Although nearly every manufacturer has already done that). I guess what I'm trying to say is that this is a long overdue update to Samsung's Android skin, but it is very welcome.
The only possible downside that I can see with this phone's software is that the phone will probably get about 2 software updates in its whole life. Samsung, along with most Android manufacturers, are rubbish with updates. Nevertheless, in the words of the immortal Austin Evans, "it's so dope I can't complain".
Cameras
This phone, as we mentioned earlier, has 5 cameras. The 3 on the rear include a standard lens, a telephoto lens and a wide-angle lens. As for the 2 on the front, we are expecting a standard lens, and a wide-angle lens for die selfies.
Now, I breezed through that pretty quickly, but let's just have a look at it. We have already seen this exact same setup on the LG V40 ThinQ. But, I hear you say, Samsung's cameras will be much better at photos than LG, right? Well, yes, but I don't think there will be as much of a difference as people are making it out to be. On their newest flagship, Samsung had to resort to the 'AI' buzzword that plagues most Asian smartphone manufacturers, and they didn't even do it as well as Huawei.
In fact, speaking of Huawei, let's compare Huawei's answer to the Note 9, with the S10, just to give Samsung a leg up. For the standard lens, unless Samsung use a 40 megapixel lens or higher, which they won't, Huawei has this in the bag. For the wide-angle lens, Huawei's has next to no fish-eye distortion at the edges, and has autofocus. Samsung could top that, but probably won't. This round goes to Huawei. Huawei's telephoto lens allows for up to 5x lossless zoom, while Samsung's allows for up to 2x. Huawei again. On the front, Samsung wins, because they have 2 lenses, and Huawei only has 1. So, the final score is 3:1 to Huawei. And Samsung is a whole phone ahead. Samsung had better pull out all the stops with this phone, because they could really get this wrong.
Extras
This phone has quite a few extra features, which don't really fall into any other category, but there are 3 main ones. Firstly, the new, faster, storage type that is rumoured to be arriving with the S10. Named UFS 3.0, this new storage type will be twice as fast as the industry standard right now, and will allow for faster load times, faster downloads, and faster file management. Secondly, the wireless charging that has come with almost every Samsung phone for the past 3 years will probably be getting a boost to 15W, to compete with Huawei. If they don't, that means Huawei has beat Samsung at their own game. Finally, possibly the most anticipated feature of the S10; the in-display fingerprint scanner. We are nearly certain at this point that the S10 will have an ultrasonic fingerprint scanner under the display. The advantage of ultrasonic over optical, which is the type of in-display fingerprint scanner technology that phones have today, is that it is more accurate, faster and more secure. Qualcomm has already confirmed that their latest chip, the Snapdragon 855, which we are almost certain will come with the S10, supports ultrasonic fingerprint scanners, so that only supports this theory.
Price
This phone's price is one of the biggest issues that I have with this phone. It will almost certainly be ridiculous. My estimation would be from £700 for the 'lite' model, to about £1300 for the top model. That is about $890 to $1650. That is far, far too much. The Huawei Mate 20 Pro beats this phone in a number of ways, and starts at about £750. Once again, Samsung's biggest downfall is the price of their phones.
Verdict
I think the Samsung S10 is a great phone for lots of people. Am I one of those people? Honestly, yes. This is the first Samsung phone that will almost certainly become my favourite phone in the world as soon as it is launched. My biggest gripes with this phone are the price, and the brand name. I don't want to be associated with Samsung. I don't want people to take a glance at my phone and know exactly what it is. I want to be different to all the people around me who choose Samsung and Apple phones just because, well, dude! They're cool!
However, this is the first time a Samsung phone has made me want it this much. This phone makes me want to want it. So, Samsung, I would love to do a review of this phone, if you can spare a grand or so. I would love it, believe me, but the price is just too high to excuse the flaws in my opinion. Nevertheless, I am excited, along with nearly everyone in the tech community. When this phone is launched in February, I will be putting out my thoughts on it, so check that out here when it is live. Let me know what you think of this phone in the comments section.